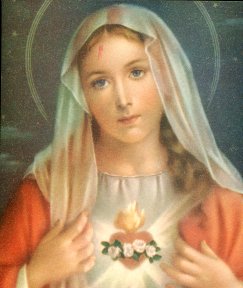 "Immaculate Heart of Mary,
pray for us!"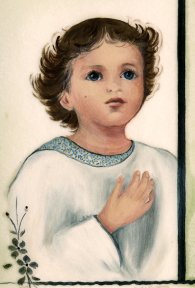 painted by Candide Inkel
"Jesus, give me the grace
to bring many souls to You!"
This step wilI bring you closer and closer to the Mother of Jesus and your Heavenly Mother. You will receive a blessed Rosary and a leaflet to show you how to say the Rosary, in case you have forgotten.
St. Maria Goretti was devoted to the Blessed Virgin Mary and she kept her Rosary always near her. She often visited the country Church dedicated to Our Lady, called "Madonna dell'Incancellata", where she prayed the Rosary with her mother.
The family said the Rosary together every night after a hard days work. This was a special time for Marietta, as they called her. She never took her eyes from the picture of Our Lady. It is said that she did not merely say her prayers. She prayed her prayers.
Every time she went to Nettuno she would go pray at the Church of Our Lady of Grace.
By praying to the Virgin Mary you will get to:
- know Jesus, more and more.
- love Jesus, more and more.
- imitate Jesus, more and more!